Milo Elektrische Trippelstoel
---
MSP produceert volledig in eigen beheer een complete lijn trippelstoelen, waaronder ons premium model: De Milo.
---
De Milo kenmerkt zich als de meest uitgebreide en complete stoel voor zowel thuisgebruik als gebruik op de werkvloer. Standaard is de stoel rijk uitgerust met zaken als een opklapbare voetsteun, volledig wegklapbare en in hoogte verstelbare armleggers, wielen met lage rolweerstand, elektrische hoog/laag en elektrische rem functie en anatomisch gevormde bekleding. Als kers op de taart heeft de Milo ook een maximum gebruikersgewicht van 180kg.
Daarnaast is de Milo ook de go-to trippelstoel voor de meest uitgebreide opties en aanpassingen. Dankzij het ontwerp van de stoel kunnen we alle kanten op. Denk hierbij aan afwijkende maat bekleding of het toepassen van traagschuim of Stamskin kunstleer, maar ook aan zaken zoals een elektrische neigverstelling, wegklapbaar werkblad of verstelbare beensteun behoren tot de mogelijkheden. In onze webshop kunt u reeds een aantal opties toevoegen.
Mocht u echter behoefte hebben aan een optie welke niet vermeld staat, download dan onze prijslijst voor meer informatie of neem contact met ons op voor een passende aanbieding.
De Milo is ontworpen om u te ondersteunen in de dagelijkse bezigheden vanuit een zittende positie. Dankzij de elektrische verstelling van 250mm, elektrische rem, opklapbare voetsteun en verstel- en wegklapbare armleggers is de Milo een veelzijdig hulpmiddel en komt in elke ruimte tot zijn recht.
De vier wielen zijn individueel elektrisch geremd middels een geïntegreerde remmotor in de wiel. Hiermee staat uw stoel muurvast en dankzij het robuuste frame geschikt tot 180kg.
Precies deze hoge mate van verstelbaarheid en gebruikersgemak zorgen ervoor dat er geen of slechts beperkt overige aanpassingen nodig zijn in bijvoorbeeld uw keuken, woon-/eetkamer, badkamer en toilet
De Milo wordt standaard uitgerust met anatomisch gevormde bekleding. Dit betekend dat uw lichaam altijd goed ondersteund wordt en u probleemloos de gehele dag in de stoel kunt zitten.
Hiertoe hebben wij tijdens de ontwikkeling een zitonderzoek uitgevoerd om de beste vorm in zowel rug als zitting te bepalen.
Ook de stoffering is van een hoge kwaliteit en is zeer slijtvast (>60.000 Martindale schaal). Daarnaast is deze afneembaar met reguliere schoonmaakmiddelen en kan deze ook met alcohol gereinigd worden.
Onze Skai zwart modellen zijn uitgevoerd in skai kunstleer.
Als MSP hechten wij veel waarde om u de meest geschikte trippelstoel te leveren. Hoewel onze trippelstoelen in de basis al zeer compleet uitgerust zijn, is er altijd de mogelijkheid tot maatwerk.
Door de jaren heen hebben wij al veel maatwerk stoelen af mogen leveren en durven wij dit gerust een expertise te noemen. Zo bieden wij tal van opties aan op het gebied van bekleding, beensteunen, hemi-plegi armleggers, lumbaalpompen en nog veel meer.
Op de productpagina van onze Milo kunt u al een beperkte selectie maken qua opties. Heeft u echter verder maatwerk nodig dan vragen wij u vriendelijk contact op te nemen met ons.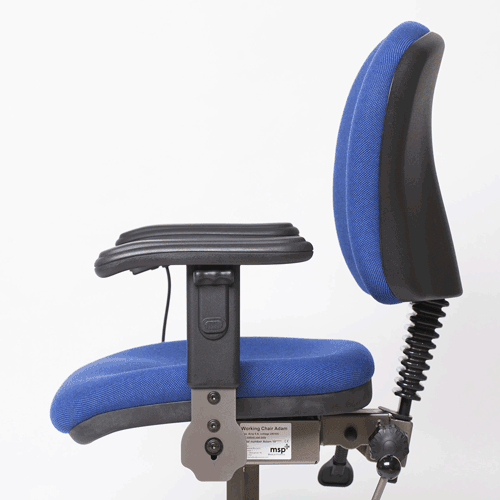 Hoogte Verstelbare Armleggers
De Milo beschikt over in hoogte verstelbare armleggers, welke eenvoudig in 7 verschillende standen ingesteld kunnen worden. Door simpel de hendel onder de PU pad in te trekken kan de armlegger versteld worden. Hiermee zijn de armleggers geheel naar wens af te stellen.
Wegklapbare Armleggers
Naast het feit dat onze armleggers in 7 hoogtestanden te verstellen zijn, zijn deze ook volledig wegklapbaar. Dit maakt het mogelijk om eenvoudig zijwaartse transfers vanaf de stoel te maken. Ideaal bij naar het toilet gaan of om op de bank of bed te schuiven, zonder noodzaak om op te hoeven staan.
Ook vergemakkelijkt dit eventuele verzorging door een derde.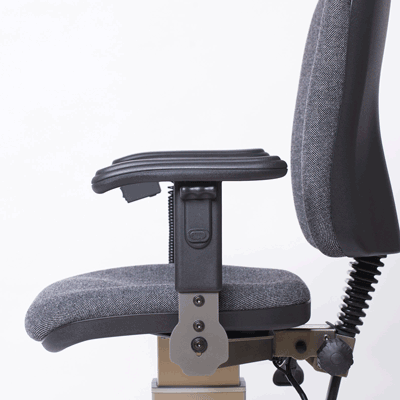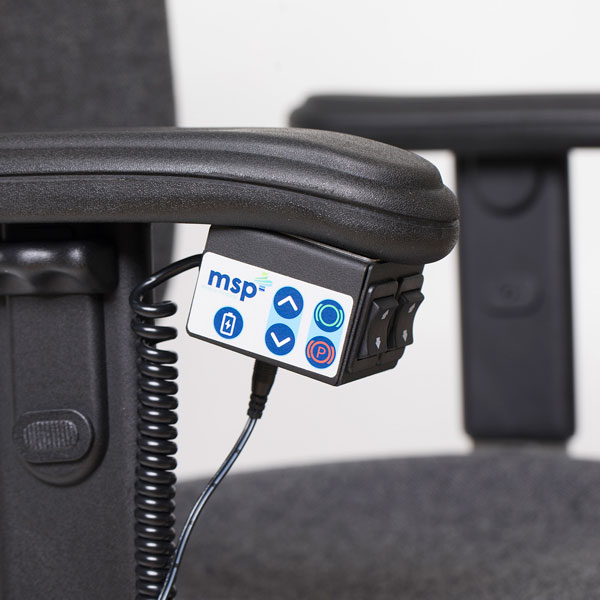 Elektrische Hoog-Laag bediening
---
De Milo is een elektrisch in hoogte verstelbare trippelstoel. Deze kan bediend worden middels de bediening onder de armlegger en kan naar wens links of rechts gemonteerd worden. De Milo heeft een verstelbereik van 250mm en kan bij ingebruikname ook nog 150mm mechanisch in hoogte versteld worden.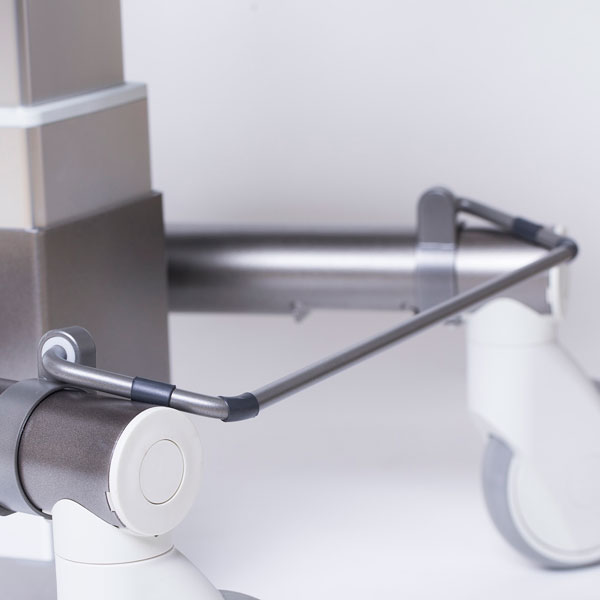 Opklapbare Voetbeugel
---
Daarnaast beschikt de Milo ook over een opklapbare voetbeugel. Deze kunt u in- en uitklappen naar wens en werkzaamheden.
De voetbeugel in combinatie met het frame is zo vormgegeven dat wanneer opgeklapt u maximale bewegingsvrijheid heeft met het trippelen, zonder dat u uw voeten of enkels stoot.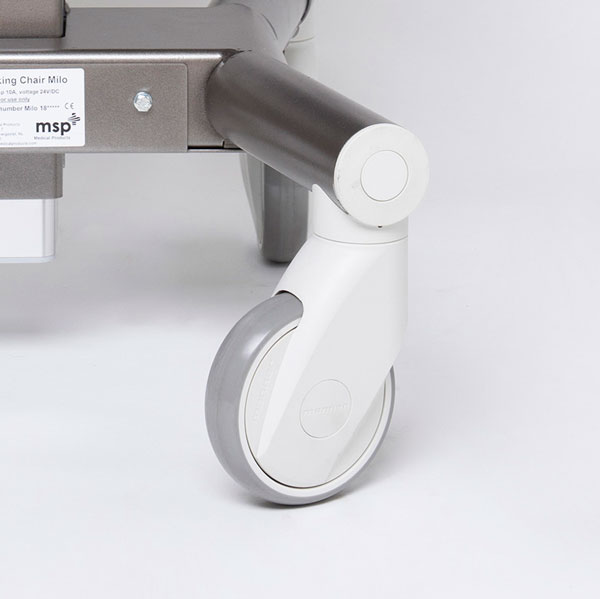 Elektrische rembediening
---
Tot slot beschikt de Milo standaard over een elektrische rembediening middels een extra paar knoppen naast de hoog/laag-bediening. Ook deze is naar wens links of rechts te monteren.
Alle vier de wielen worden individueel elektrisch geremd middels een ingebouwde remmotor, waardoor de Milo muurvast staat.
Milo Trippelstoelen met hoge rug
---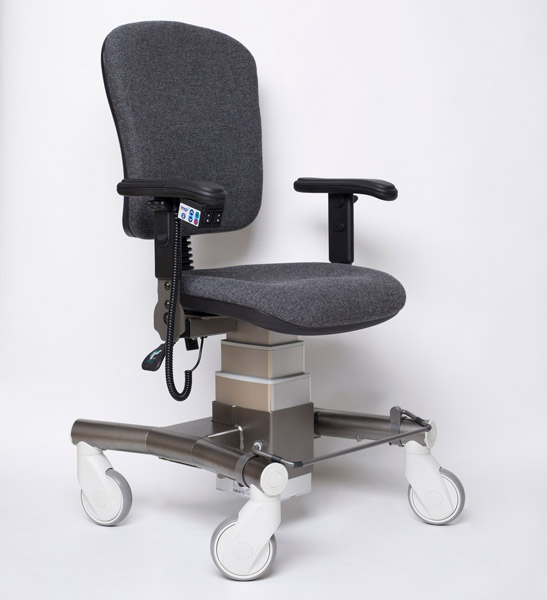 incl. VAT

€5,095.75
Excl. VAT
€4,675.00
Milo Trippelstoelen met lage rug
---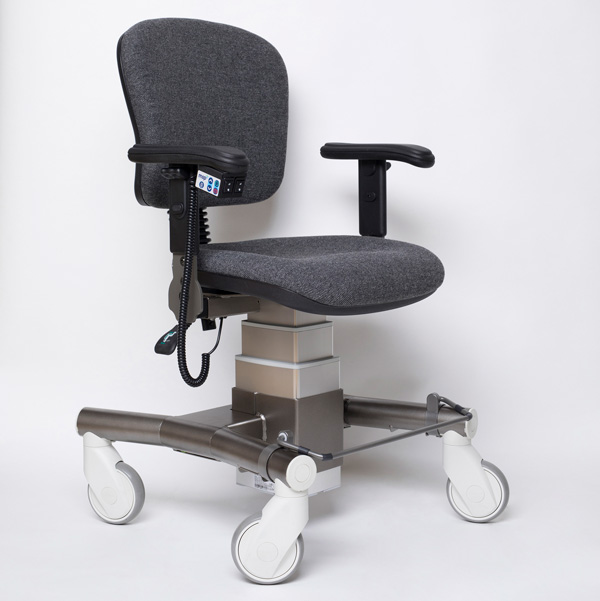 incl. VAT

€5,095.75
Excl. VAT
€4,675.00