2x Battery Cell 12V/DC 2.9Ah SLA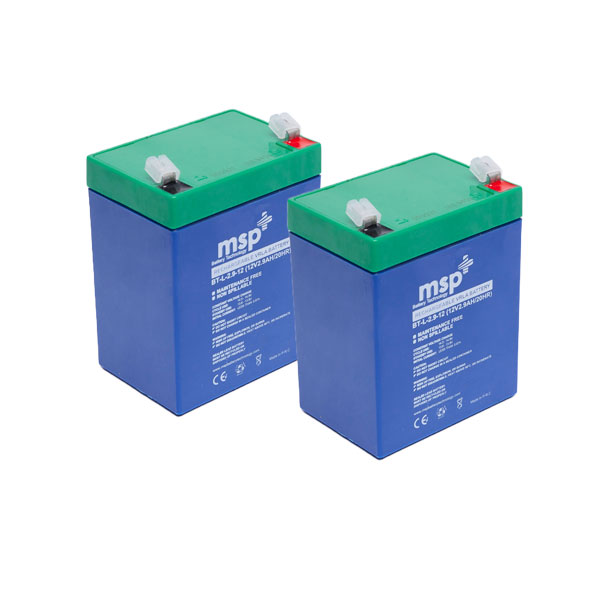 2x Battery Cell 12V/DC 2.9Ah SLA
Product number:
MSP-A-MDR-00100
Replaces OEM Product Number:
O902201000001
incl. VAT €70.12
Excl. VAT
€57.95
All parts are MDR compliant
Purchase comfortable on account
Product Information
MSP offers a high quality replacement set of battery cells from our own Battery Technology brand. These 12 Volt battery cells are a revolutionary product that can power your medical devices for longer and more reliably. Our own replacement battery cells are compatible with the
working chairs
from Medross. You can use our batteries on the electric Tango and Katwijker working chairs.
You can use our battery pack without affecting the warranty and liability of your working chair. Our battery is 100% compatible with your device and existing chargers, and meets the MDR standards. You don't need any technical skills or modifications to use it. You also save up to 50% on costs compared to original parts*.
Readmore...



Battery Cell 12V/DC suitable for Medross


Our batteries have an output voltage of 12V/DC and a capacity of 2.9Ah, have F1 4.8x0.8mm terminals and are VRLA/SLA batteries.



The advantages


Super competitive pricing

Compatible with our own MSP charger and the O901001000003 charger from Medross

This is a set of 2x MSP Battery cells and replaces the O902201000001 battery set from Medross

Fits without any adjustments on all the electric Tango and Katwijker working chairs

Order your battery pack MSP-A-MDR-00100 from MSP Medical

Choose smart and order your 12 Volt battery cells from MSP. After placing the order we will ship the battery cells within 24 hours after ordering.




MSP, the smarter alternative. Always

*calculated in relation to the gross price of original parts

Specifications
Technical Specifications "2x Battery Cell 12V/DC 2.9Ah SLA"
Product number:
MSP-A-MDR-00100
Manufacturer:
MSP
Replaces OEM Product Number:
O902201000001
Weight:
2.3 kg
Length:
56 mm
Width:
79 mm
Height:
99 mm
Suited for Equipment:

Working Chairs

Suited for OEM:

Medross

Suited for Model:

Katwijker

, Mondo

Output Voltage:

12V/DC

Capacity:

2.9Ah

Battery Technology:

SLA/VRLA AGM

Type of spare part:

Battery
Data according to manufacturer. Errors and changes reserved.