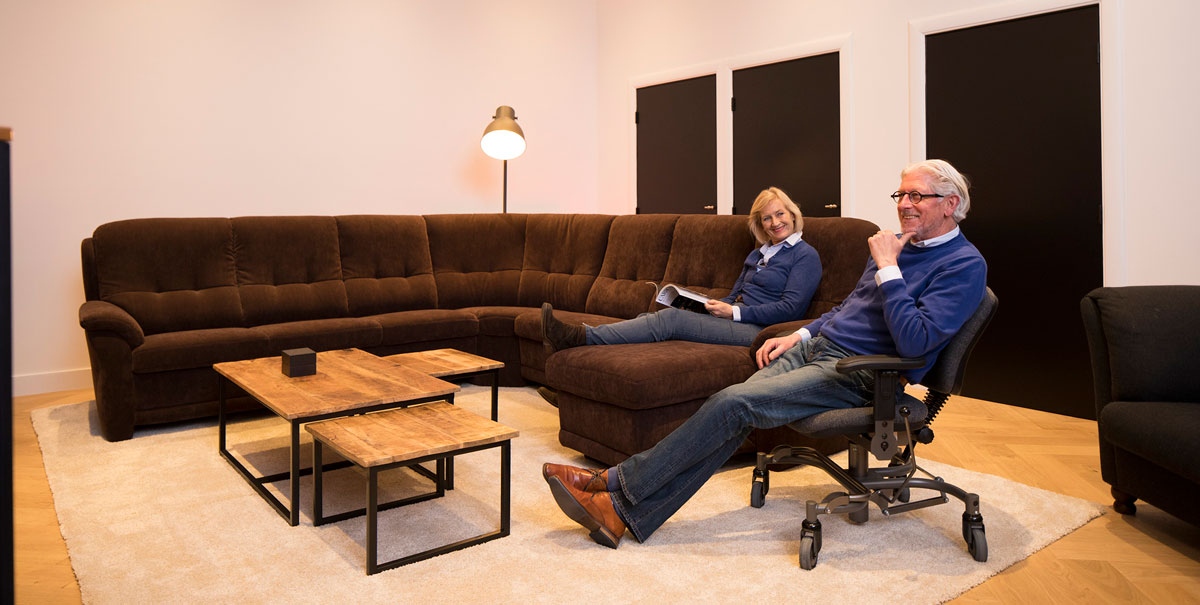 Adam Electric Triple Chair
---
MSP produces a complete line of triple chairs entirely in-house, including our runner: The Adam.
---
The Adam is characterized as a complete chair for both home use and use in the workplace. As standard, the chair is richly equipped with things such as a folding footrest, fully foldable and height-adjustable armrests, wheels with low rolling resistance, electric high/low function and anatomically shaped upholstery.
In addition, many different options and adjustments are also required. Think of different size upholstery or the use of memory foam or Stamskin artificial leather, but also things such as an electric brake or adjustable leg support are possible.
You can already add a number of options in our webshop. However, if you need an option that is not listed, please download our price list for more information or contact us for a suitable offer.
The Adam is designed to support you in daily activities from a seated position. Thanks to the electrical adjustment, folding footrests and adjustable and folding armrests, the Adam is a versatile tool and comes into its own in every room.

It is precisely this high degree of adjustability and ease of use that ensures that no or only limited other adjustments are required in, for example, your kitchen, living/dining room, bathroom and toilet.
The Adam is standard equipped with anatomically shaped upholstery. This means that your body is always well supported and you can sit in the chair all day without any problems.

To this end, we carried out a seating study during development to determine the best shape in both back and seat. The upholstery is also of a high quality and is very wear-resistant (>60,000 Martindale scale).

In addition, it is removable with regular cleaning products and can also be cleaned with alcohol. Our Skai black models are made of skai imitation leather.
As MSP, we attach great importance to supplying you with the most suitable triple chair. Although our triple chairs are already very fully equipped in the base, there is always the option of customization.
Over the years we have been able to deliver many custom chairs and we dare to call this an expertise. For example, we offer numerous options in the field of upholstery, leg supports, hemi-plegi armrests, lumbar pumps and much more.
On the product page of our Adam you can already make a limited selection in terms of options. However, if you need further customization, we kindly ask you to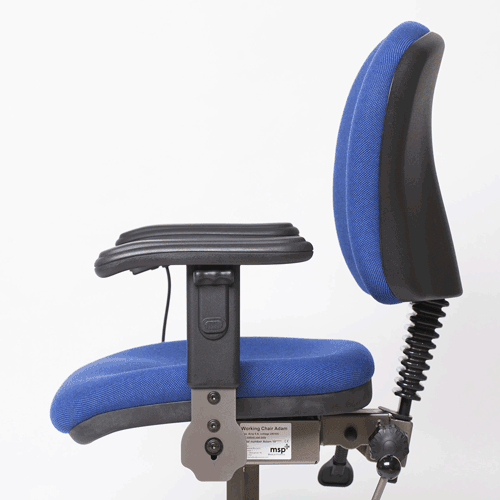 Height Adjustable Armrests
The Adam has height-adjustable armrests, which can easily be set in 7 different positions. The armrest can be adjusted by simply retracting the lever under the PU pad. This allows the armrests to be adjusted as desired.
Foldable Armrests

In addition to the fact that our armrests can be adjusted in 7 height positions, they can also be folded away completely. This makes it possible to easily make lateral transfers from the seat. Ideal for going to the toilet or for sliding onto the sofa or bed without having to get up. This also facilitates any care by a healthcare provider.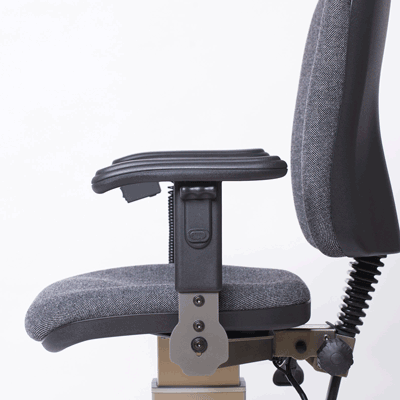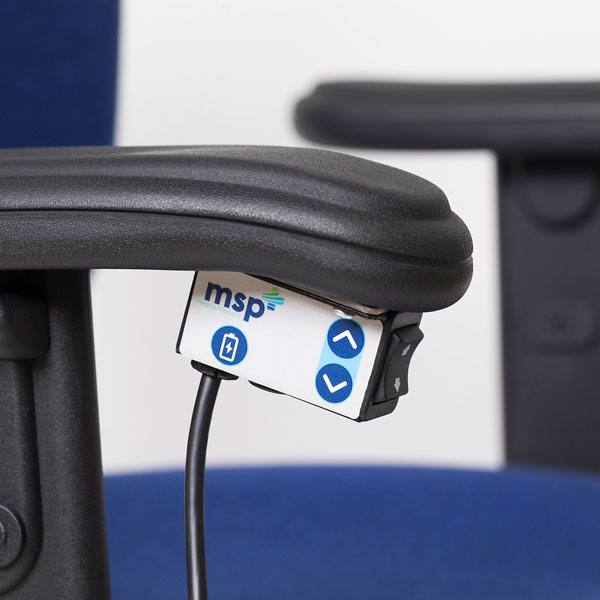 Electric High-Low operation

---
The Adam is an electrically height-adjustable triple chair. This can be operated by means of the control under the armrest and can be mounted on the left or right as desired. The Adam has an adjustment range of 200mm and can also be mechanically adjusted by 150mm in height when it is first used.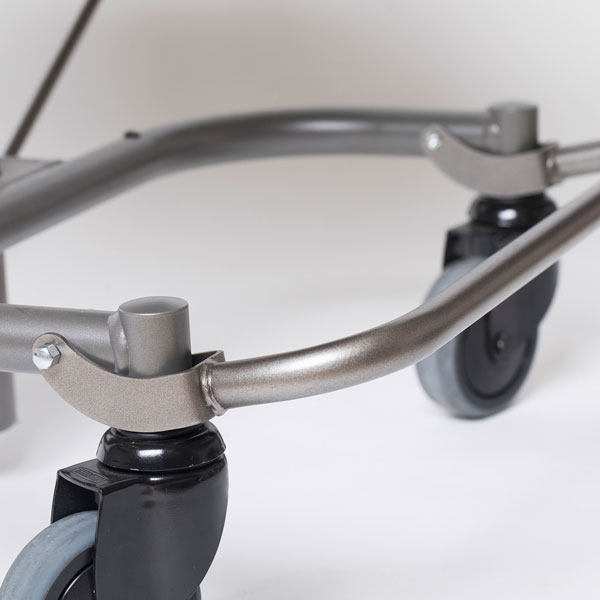 Foldable Foot Bracket
---
In addition, the Adam also has a folding foot bar. You can fold and unfold this according to your wishes and activities. The foot bar in combination with the frame is designed in such a way that when folded up you have maximum freedom of movement when tripping, without bumping your feet or ankles.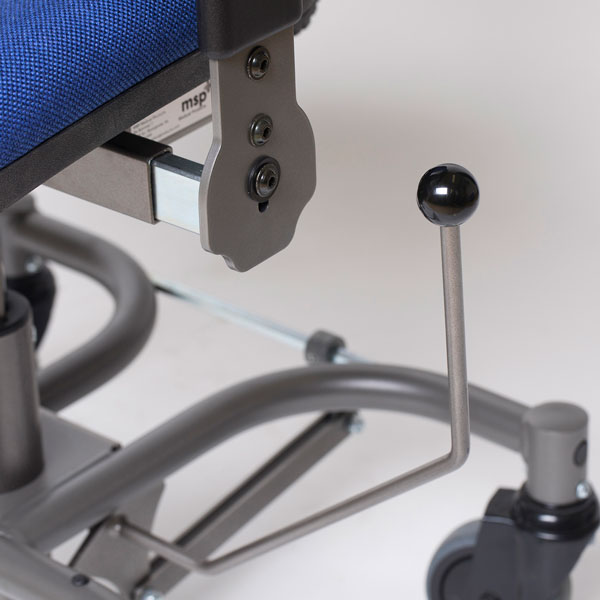 Easy brake control

---
Finally, the Adam has a standard manual brake control by means of a brake lever. This can also be mounted on the left or right as desired and, thanks to the lever principle, it can be operated with little force. Optionally, there is the option of mounting an electric brake, which can then also be operated with an extra button under the armrest.
Adam Trippel chairs with high backs
---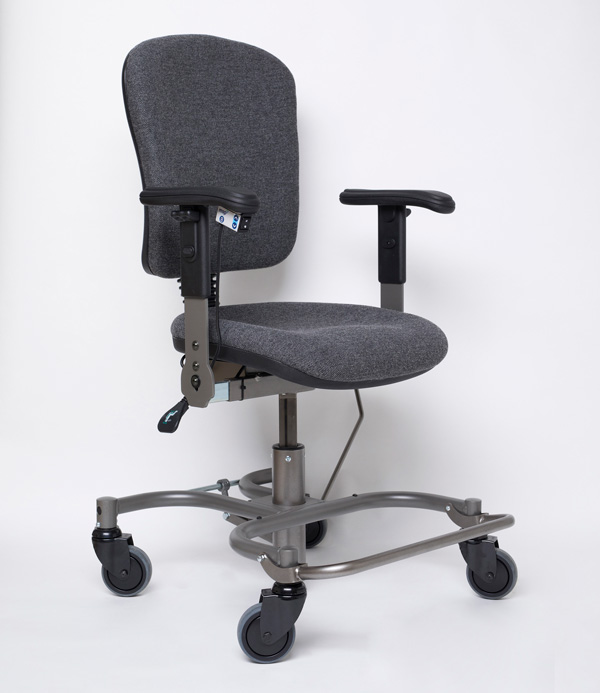 incl. VAT

€2,441.60
Excl. VAT
€2,240.00
Adam Trippel chairs with low back

---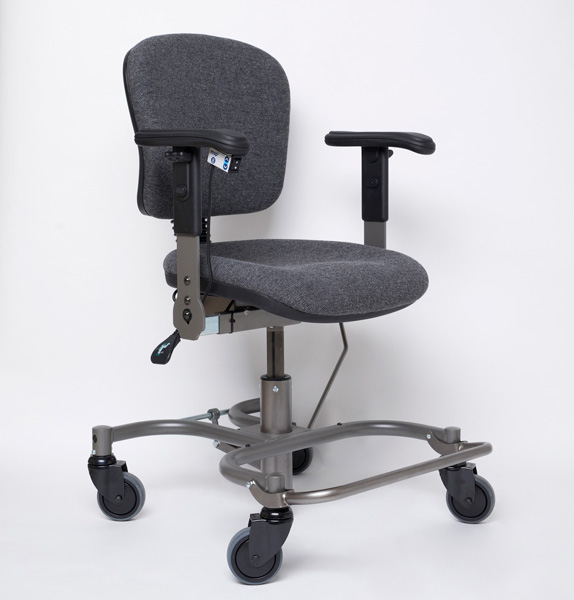 incl. VAT

€2,441.60
Excl. VAT
€2,017.85