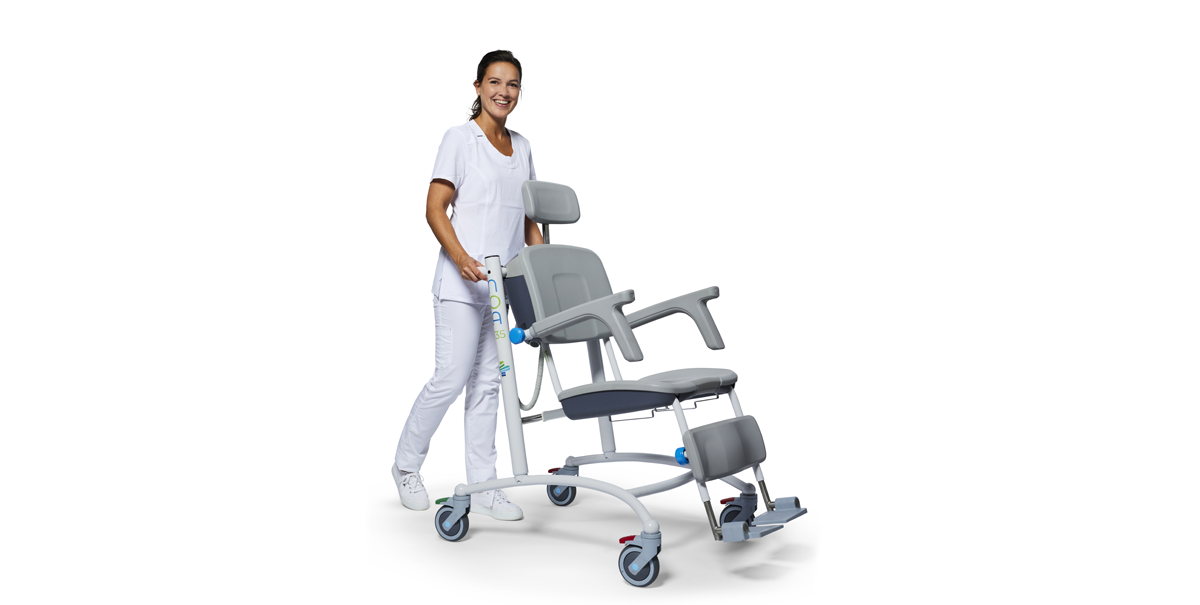 Noa Shower-Toilet Chair
---
Premium design with unparalled quality

---
The best way to start your day is with Noa. Our premium shower-toilet chair is designed to make every moment as comfortable as possible. The optimised design expands the overall working space of the care giver. Noa is a true innovation and has features that make it a one of a kind.

Noa provides a wide range of positioning assistance making it adaptable to a wide variety of needs. Each movement such as lifting, lowering and tilting runs smoothly ensuring comfort and dignity. Being a fully powered lightweight shower-toilet chair, it is easier to move around and significantly the physical effort of the care giver.
Remote controlled lifting, lowering and tilting movements
Individually adjustable arm, head and footrest
Stable and high grade stainless steel frame
Space-saving design to enable optimal caregiving
Smooth-running castors with integrated (3) brakes, directional lock (1) with stainless steel high precision ball bearin
We offer a wide range of additional add-ons to enhance Noa even more. Choose from various accessories to fit your specific healthcare needs:

Seating Po with lid
Wider armrest
Extended armrest
Foldable footplate
Safety belts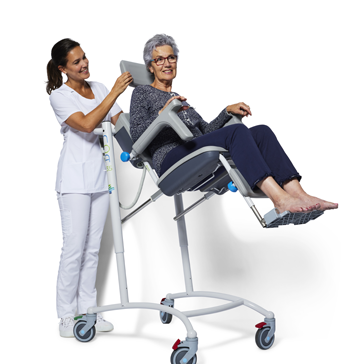 Innovative active headrest

Our protective headrest moves independently of the chair which reulst in maximum support when reclining the chair backwards.

Greater adaptability

Position the armrest in one of three positions and adjust the footrest height to the client's length.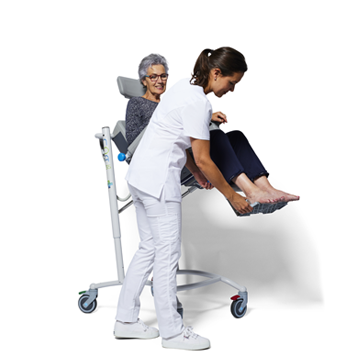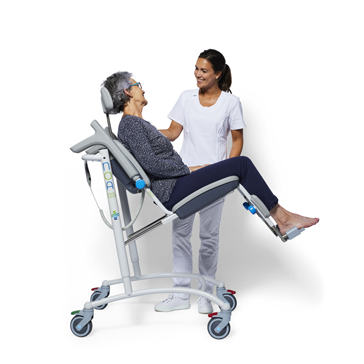 Significantly more space

---
By eliminating the standard trapezoid frame the Noa has a more optimized and spacious design. Giving the caregiver more freedom to move and less risk of hurting the shin bone.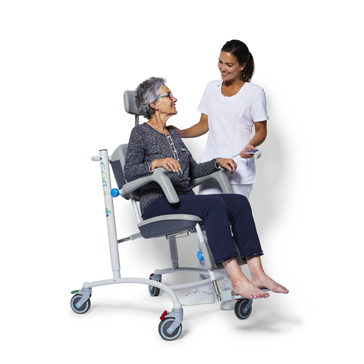 Strong and durable

---
Greater strength and durability is provided by making the entire frame of high grade stainless steel, including the high precision ball bearings of the castors
What is a shower chair
A shower-toilet chair is a
medical product
that can be used in the shower or toilet. It is designed for people who have difficulty standing or sitting for long periods of time. The chair is made of waterproof materials and has a seat that can be adjusted to different heights. It also has armrests and a backrest for added support and comfort.
Shower-toilet chairs have
wheels
that allow you to move it around easily and lock it in place when needed. Some models also have adjustable height, tilt function, armrests, footrests, headrests, and backrests to provide optimal comfort and support.
What are the benefits of a shower-toilet chair?
Shower chairs offer many benefits to those who use them. They can help increase safety, reduce stress, improve hygiene, and increase independence. A shower seat reduces the chance of falling, which can lead to serious injuries such as broken bones or head trauma. Shower chairs can lead to a reduction in anxiety and worry. Less stress can have a domino effect of health benefits that increase the quality of life for all those involved. Shower chairs are especially useful for those that are in wheelchairs, the elderly, or anyone who finds excessive movement painful or difficult. They provide a secure area in a slippery shower or bath and make it easy to get in and out of showers.

Where can I buy a shower chair?
There are several places where you can buy a shower chair.. You can purchase a shower chair from medical supply stores, healthcare providers and online retailers. Before purchasing a shower chair, it is important to consider your specific needs and the features that are important to you. It is critical that the shower chair meets the various circumstances of your clients. For this reason, we offer specialized shower-toilet chairs designed to provide a stable and comfortable posture for different clients with various needs.

Our medical shower chairs are equipped with height adjustment and tilting functions, allowing carers to adjust the seating position to a comfortable and ergonomically sound posture for both the client and the carer. With these features, we aim to make care activities more manageable and comfortable for everyone involved.
What are the important features of a shower chair?
W
ell-designed shower and toilet chairs have slip-resistant seats and non-skid foot tips, making them safe to use on slippery or wet surfaces. Shower chairs are made from waterproof, non-rusting materials, such as plastic and aluminum.
A good shower chair should have the following features:
Adjustability: Choose for a shower chair that is adjustable to accommodate different preferences around a seated position.

Sturdy build quality: A good shower chair should be made of sturdy materials that can withstand the weight of the user.

Smart design: Go for a shower chair that has an optimized design that gives more space to the caregiver.

Resistance to rust: A good shower chair should be made of materials that are resistant to rust and corrosion.

Supportive during bathing: A shower chair should be designed to provide support and stability during bathing.

Enables ease of transfers in and out of the shower: A good shower chair should be designed to make it easy for the user to transfer in and out of the shower.
How to use a shower chair?
Using a shower chair can help individuals with mobility or balance issues to shower safely and comfortably.
Here are the general steps for using a shower chair:
A

djust the chair to the appropriate height for the individual using it. Most shower chairs come with adjustable legs or feet that can be raised or lowered to accommodate different users and shower heights.

Have the individual sit on the shower chair, making sure they are comfortable and their feet are firmly on the ground. If necessary, add a non-slip mat or adhesive strips to the bottom of the shower chair for additional stability.

Start the showering process with the client.

Help the individual stand up and exit the shower chair safely, being sure to dry them off thoroughly with a towel.

Clean and disinfect the shower chair after each use, following the manufacturer's instructions.
It's important to remember that each individual may have specific needs or limitations that require additional care and attention.
Why use a shower chair in a hospital or care facility?
Shower toilet chairs can be used in bathrooms, nursing homes, hospitals, or any other place where there is a need for personal hygiene assistance.
Using shower toilet chairs in care facilities and hospitals can have several benefits for patients and staff, such as:
Improving patient safety and comfort by reducing the risk of falls, infections, pressure ulcers, and other complications associated with poor bathroom access.

E

nhancing patient dignity and independence by allowing them to perform their personal hygiene and toileting activities with minimal or no assistance.

Easing the workload and strain on staff by eliminating unnecessary transfers and heavy lifting, and facilitating patient care and hygiene.

Saving space and cost by providing a versatile device that can serve multiple functions as a commode, a shower chair, or an over-the-toilet support frame.
Why choose MSP?
We understand that some individuals may require assistance and support with personal care activities such as showering, using the toilet and other similar tasks. For this reason, we offer specialist shower and toilet chairs designed to provide clients with a stable and comfortable position while they are being cared for.
O
ur shower and toilet chairs are equipped with electrical height adjustment and tilt functions, allowing carers to adjust the sitting position to a comfortable and ergonomically sound position for both the client and the carer. With these functions, we want to make care activities more manageable and comfortable for everyone involved.